FRI JULY, 29
CINCINNATI TO CLEVELAND
HRS WORKED: 6
STEPS: 9,100
HAPPY: 3/7
12pm: Woke Up After 6 Hrs Sleep @ Airbnb
I was lucky with my stay because I was suppose to get the "shared" room, but she gave me the private one for the same price.
In the morning she greeted me with a big smile even though I was running late. I set my alarm to wake me at 11:55am, which I thought would give me plenty of time for 12pm checkout.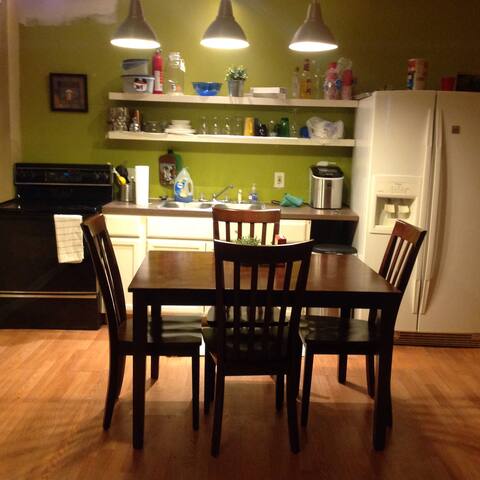 1pm: Blog Work @ Collective Espresso
A young guy next to me was talking to a girl about buying a small sized RV to live in. I remember those days :)
5pm: Did Voice Memo @ Park
6pm: Greyhound to Cleveland
I was the last one to board the bus because I decided last minute to get a Subway sandwich. I thought I was so good until I got the broken seat.
11pm: Ate @ Arby's
Upon arrival I asked the security guard for the nearest fast food place. He directed me a few blocks down.
Guy standing next to him decided to follow me and said, "Hi, I'm Cody!" I kept walking. When he was hollering for me to come back. I walked faster.
12am: Uber to Little Italy
1am: Checked In @ Airbnb
I met my Airbnb host in the hallway. He offered me a $40 discount if I pay in cash instead of via Airbnb because they take a service charge. I made sure to record the convo just in case. He said the ATM is across the street.
Card denied. I called Chase Bank and they said it was a security measure against fraud.
If taking $160 at 1:30am in Cleveland, a city I never been, doesn't raise a red flag then I guess nothing would so I was grateful for their diligence.
My host said he got his PHD at Kasey University. He has a Siberian accent so I awkwardly thought he said Kazakhstan University.
After I gave him the money he asked me if I wanted to meet the owner, "Terry Tarintino".
He was sitting at the counter cursing with the bartender. He owns the Italian Restaurant and the apartments above it (where I'm staying the week). We exchanged pleasantries. My host later told me that Terry is an icon in the neighborhood. He is very wealthy, but still likes to serve tables by hand the old fashion Italian way.
3am: Watched Bill Clinton's DNC Speech @ Airbnb
4am: Sleep @ Airbnb